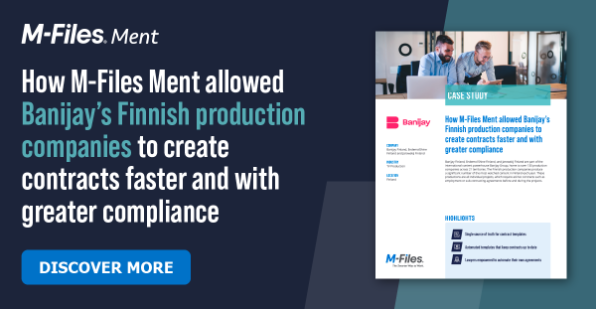 Case study: How M-Files Ment allowed Banijay's Finnish production companies to create contracts faster and with greater compliance
Banijay Finland, Endemol Shine Finland, and Jarowskij Finland are part of the international content powerhouse Banijay Group, home to over 130 production companies across 21 territories. The Finnish production companies produce a significant number of the most watched content in Finland each year. These productions are all individual projects, which require ad-hoc contracts such as employment or sub-contracting agreements before and during the projects.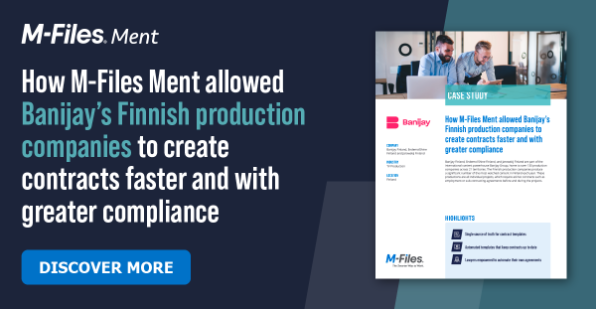 HIGHLIGHTS
Single source of truth for contract templates
Automated templates that keep contracts up to date
Lawyers empowered to automate their own agreements
Key Challenges Before M-Files
When contracting with producers, the companies' legal team came to recognize that there were always several different versions of the same contracts, which led to confusion
and slowed down the companies' ability to process important contractual paperwork.
"It was always time-consuming to establish which one was the latest version we needed to use. Managing that knowledge in a more effective and easier to use way was a key requirement," said Liina Laiso, the Chief Legal and HR Officer for Banijay's Finnish subsidiaries. "Also, when there were legislative changes that impacted our legal wording, we found it a time-consuming exercise to source and amend all the different variations of our contracts – and even then we couldn't be assured that we had amended all our wording," Liina continued.

The legal department was burdened with the tedious task of searching for and identifying the latest version of each contract. "On top of that, we (as lawyers) tend to reuse legal wording that best fits the current project based on previously agreed agreements of a similar type. Finding the required wording amongst many different contracts was also a time-consuming exercise," Liina said, "We needed a tool which allowed us to draft quicker, easier and more compliantly."
Key Challenges Before M-Files
The company did their due diligence to identify a user-friendly document automation tool that could assist their legal department with efficiently processing contracts and aintaining compliance. "Quite quickly M-Files Ment was the best choice for us due to how user-friendly it was and how competitive it was on price compared to other products on the market," Liina recalled.

M-Files Ment also afforded the companies the opportunity to automate templates that would always be up to date with the latest version. "M-Files Ment allowed us to consolidate our agreement precedents so that we had just one automated template for each agreement that everyone could access. This solved the issue of having to determine which agreement precedent was the latest version – with M-Files Ment the automated template is always the latest version. When updates were required,
they could be made quickly and easily, safe in the knowledge that all future documents generated would incorporate the updated changes," Liina explained.
Liina was quick to praise how helpful M-Files Ment experts were during the implementation process: "For the implementation we first focused on those documents that were going to provide us the most value – our employment agreements. With the support of the Ment experts, we automated those documents and created templates for them – before providing access to our Producers so they could access and test M-Files Ment. The feedback received was good and before long we had launched those first templates and put them into use. Overall, the implementation took around three months in total – which fit well with our capacity."

"This also gave us time as lawyers to learn M-Files Ment and make sure we were in the best position to automate and maintain our legal documents going forward," Liina continued.

The results
When Liina was asked to assess what kind of impact M-Files Ment had on Banijay's Finnish subsidiaries, she was quick to highlight how much easier it is to find and use templates for the sake of preparing contracts. "We now have easy access to all our latest legal templates in M-Files Ment – saving time having to search for them. Even more importantly though, having all the latest regularly updated legal templates in one place and easily accessible means that we can contract a lot quicker. There is also comfort in the knowledge that all the documents we produce will be compliant with the latest legislation," Liina said.

And the benefits of M-Files Ment have extended beyond the production companies and proven helpful to their producing partners as well. "It's also been good for the people we contract with too. The process of contracting has been streamlined as the Producers understand which contracts are applicable to their needs – and are able to be more prepared as they understand the likely obligations/negotiating points," said Liina.

"We continue to improve and add new templates to M-Files Ment and value its ease of use, which allows us to maintain our templates without technical support. We started with a trial for employment agreements and now we have automated over 30 different agreements. Our team of lawyers carry out the automation and maintenance of their agreements. It's fun creating agreement templates especially seeing the celebratory confetti that appears when you publish a new one," Liina concluded.
"We now have easy access to all our latest legal templates in M-Files Ment – saving time having to search for them. Even more importantly though, having all the latest regularly updated legal templates in one place and easily accessible means that we can contract a lot quicker."

Liina Laiso
Chief Legal and HR Officer for Banijay's Finnish subsidiaries
"M-Files Ment allowed us to consolidate our agreement precedents so that we had just one automated template for each agreement that everyone could access. This solved the issue of having to determine which agreement precedent was the latest version – with M-Files Ment the automated template is always the latest version."

Liina Laiso
Chief Legal and HR Officer for Banijay's Finnish subsidiaries